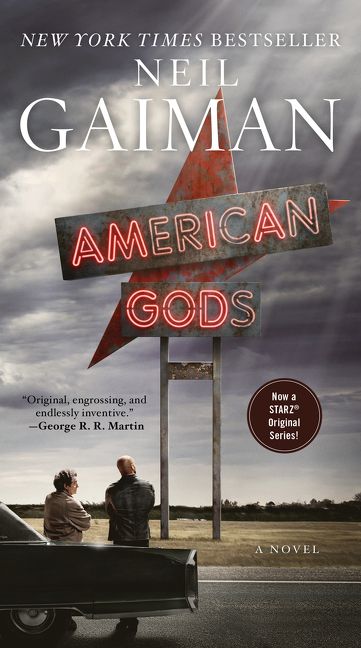 Read from June 02 to 21, 2019
If you are to survive, you must believe.

Shadow Moon has served his time. But hours before his release from prison, his beloved wife is killed in a freak accident. Dazed, he boards a plane home where he meets the enigmatic Mr Wednesday, who professes both to know Shadow and to be king of America.

Together they embark on a profoundly strange road trip across the USA, encountering a kaleidoscopic cast of characters along the way. Yet all around them a storm threatens to break.

The war has already begun, an epic struggle for the very soul of America, and Shadow is standing squarely in its path.
This is my second Neil Gaiman novel and I was so hyped to read it. I heard great things about the STARZ series, so I started the watching it right after I finished this book and I'm loving it!
I was wary at the beginning of the story because it was a huuuuge book - 736 pages, to be exact, and that's insane and scary at the same time. However, I was too excited to drop it, and I ended up devouring the whole book. The plot concept is uniquely different; I'm pretty sure I have never seen this storyline being explored on such a grand scale as this before. It was sort of fun to try guess all the gods that kept popping up, and I'm very motivated to start reading old folklore and history books after this read.
I loved the characters! Even the gods were so human and mortal in their characterisation, and that appealed so much to me. It was also so relatable in my head, because it left me feeling like there could be gods living among us. Imagine the possibilities! Gods aside, the human characters were just as appealing, alive or dead.
This is one of the only books where the plot appealed to me more than the characters did; I was more engrossed in how the story would unfold, rather than on a character or more. There were very twisty plot twists that I absolutely loved! And honestly, I'm ready for a sequel if it ever comes out.