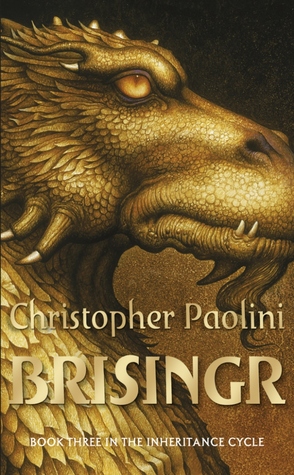 Read from October 26 to November 12, 2014
"Oaths sworn...
Loyalties tested...
Forces collide.

Eragon and his dragon, Saphira, have narrowly escaped with their lives after the colossal battle against the Empire's warriors on the Burning Plains. Now Eragon finds himself bound by promises he may not be able to keep.
He must help rescue his cousin Roran's beloved from King Galbatorix's clutches. But he also owes his loyalty to the Varden, the elves and the dwarves, who are in desperate need of his talents and strength.
Eragon is the greatest hope to rid the land of tyranny. Can this once simple farm boy unite the rebel forces and defeat the king?"
OMG! This was so good!!! Paolini's writing is genius!!!
As always, Eragon and Saphira stole the spotlight throughout the story, and I just fell more in love with the two of them after reading this! Even Roran is one of my favourites!
This book was a bit darker than its predecessors, but I loved that. It reflects a lot on Eragon's growth and is characteristic if the warfare going on! There was tragedy as well, especially nearing the end, and that was just heartbreaking!
I'm still rooting for Murtagh and Thorn though. I hope they manage to side with Eragon through some way.
I absolutely loved the intricate detail in Paolini's writing! His writing literally paints pictures! So beautiful!!!
Also, I'll admit that my favourite part was when Brisingr was made! That sword is THE sword! The coolest thing ever!!!!
Overall, it was one hell of a story! Really good series so far!!! And it deserves so much more love!!!
my Goodreads review