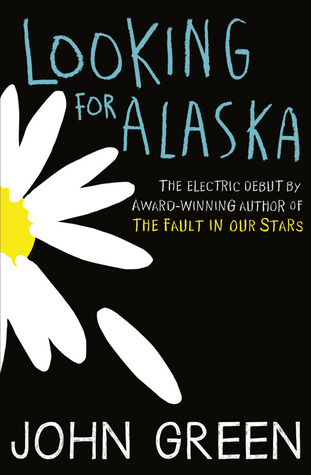 Read from January 08 to 14, 2015
"

Before. Miles "Pudge" Halter's whole existence has been one big nonevent, and his obsession with famous last words has only made him crave the "Great Perhaps" (François Rabelais, poet) even more. Then he heads off to the sometimes crazy, possibly unstable, and anything-but-boring world of Culver Creek Boarding School, and his life becomes the opposite of safe. Because down the hall is Alaska Young. The gorgeous, clever, funny, sexy, self-destructive, screwed-up, and utterly fascinating Alaska Young, who is an event unto herself. She pulls Pudge into her world, launches him into the Great Perhaps, and steals his heart.

After. Nothing is ever the same.

"
I was definitely not prepared for this level of awesomeness! John Green is just so amazing and I think I joined his fan club! :P
For starters, the Before section of the book was all fun and games and all the rest of adolescent life moments. I tabbed so many pages in this section because I just loved his writing! His analogies were genius and just so beautiful! His writing just carried me through the book, and the only word that comes to my mind to describe how I felt is 'spellbound'.
I felt the mood shift once I reached the After section of the book. It got more serious, darker and more philosophical (sort of, I think?) I've tagged markedly less in this section. The beginning of this section was truly, painfully sad. It just broke my heart; my vision blurred a bit with tears even (I hate getting emotional when reading). But the mood lightened towards the ending, and even though it wasn't as light-hearted as it was in the beginning, it was less tragic. I couldn't help realizing that Green pretty much mimicked the natural process of grieving here: you don't forget but it gets easier with time.
Subverting the Patriarchal Paradigm made me laugh so hard! And it was so beautiful though! I just love how they carried it out to move on from the tragedy. This was a huge turning-point, and I'm just glad that Green made the reader her(or him)self feel that.
Looking For Alaska
was absolutely beautiful, in my opinion. It showed life for what it is, and it didn't hesitate to show the reality. This book taught me so much, and I feel so lucky for having come across this book. I don't think I've learned this much about life from a fiction book! Haha! I'm so excited to see what the rest of John Green's amazing books are gonna be like!
my Goodreads review