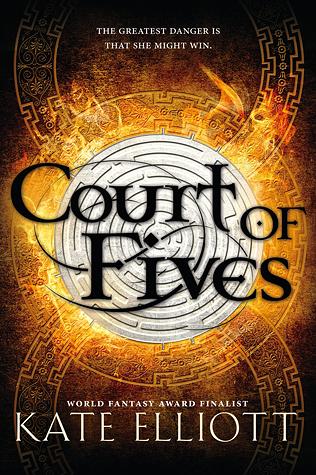 Read from May 22 to June 17, 2015
"On the Fives court, everyone is equal.

And everyone is dangerous.

Jessamy's life is a balance between acting like an upper-class Patron and dreaming of the freedom of the Commoners. But away from her family, she can be whomever she wants when she sneaks out to train for the Fives, an intricate, multilevel athletic competition that offers a chance for glory to the kingdom's best competitors.

Then Jes meets Kalliarkos, and an improbable friendship between the two Fives competitors—one of mixed race and the other a Patron boy—causes heads to turn. When Kal's powerful, scheming uncle tears Jes's family apart, she'll have to test her new friend's loyalty and risk the vengeance of a royal clan to save her mother and sisters from certain death.

In this imaginative escape into an enthralling new world, World Fantasy Award finalist Kate Elliott's first young adult novel weaves an epic story of a girl struggling to do what she loves in a society suffocated by rules of class and privilege."
This book started pretty slow but I loved it by the time I finished reading it!
I loved Jessamy and her independent, rebellious personality! Her loyalty and love for her family was a big plus point when it came to her! And I love the tentative connection she shares with her father!
And Kal!!! I wish there had been more of him in the story!!! I just loved his characters and I really need to see more of him, especially after that cliffhanger ending!!!
The ending was so powerful! The emotions in that part of the story just carried me along to the epic cliffhanger ending, and I'm dying to read the next book in the series!!!
my Goodreads review