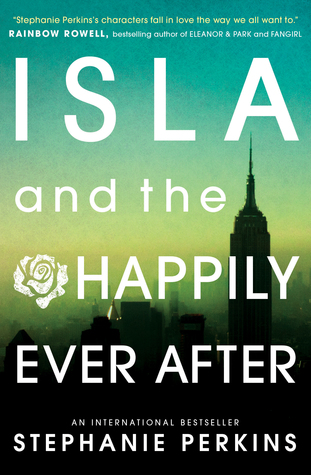 Read from January 16 to 18, 2016
"The café is boiling. The atmosphere is clouded with bittersweet coffee.

Three years of desire rip through my body and burst from my lips: "Josh!"

His head jolts up. For a long time, a very long time, he just stares at me.

And then…he blinks. "Isla?"

Hopeless romantic Isla has had a crush on brooding artist Josh since their first year at the School of America in Paris. And, after a chance encounter in Manhattan over the summer break, romance might be closer than Isla imagined. But as they begin their senior year back in France, Isla and Josh are forced to face uncertainty about their futures, and the very real possibility of being apart.

Set against the stunning backdrops of New York, Paris and Barcelona, this is a gorgeous, heart-wrenching and irresistible story of true love, and the perfect conclusion to Stephanie Perkins's beloved series."
I've got to admit that Isla is the most heartbreaking book in the trilogy. I knew it was gonna be much more angsty from the moment I started reading it! Haha!
So, Isla... I loved Isla's character! I could relate to her in many ways and that made understanding her and empathising with her all the more easier! Her insecurities were real; I'm even guessing I'll end up a lot like her if I ever get into a relationship! Haha! Her character was a 100% different from Anna and Lola, and that just made her all the more real!
Then Josh! I loved him since reading Anna and I've always wanted to know more about him. This book just made me love him all the more and I'm stuck between him and Etienne when it comes to my fave guy in this trilogy! Haha! Anyway, Josh's character was much more solid than he was before and I'll admit I fell in love with him the moment this book started!
And then him and Isla together? They had more chemistry than most book characters I've read of! I loved how they complemented each other, how they got through troubles together, and how they learnt more and more about each other. I personally I found it painful to read some parts of the book because of how much they got hurt! *sob*
The ending though! Whoa! I loved the reunion with everyone else and how everyone played into the story. Then those big surprises at the end blew me away and sucked me deeper into the story! This ending left me near tears! And then that last scene... I died reading it. It was just so beautiful and I couldn't have imagined a better ending for Isla and Josh!
This book was the climatic ending that Perkins' trilogy deserved! It left me breathless, hopeful and hopelessly yearning for more!
my Goodreads review