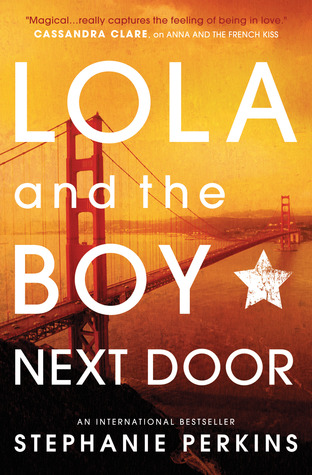 Read from January 14 to 16, 2016
"Budding designer Lola Nolan doesn't believe in fashion... she believes in costume. The more expressive the outfit – the more sparkly, more wild – the better. And life is pretty close to perfect for Lola, especially with her hot rocker boyfriend.
That is, until the Bell twins, Calliope and Cricket return to the neighbourhood and unearth a past of hurt that Lola thought was long buried. So when talented inventor Cricket steps out from his twin sister's shadow and back into Lola's life, she must finally face up to a lifetime of feelings for the boy next door. Could the boy from Lola's past be the love of her future?"
So I'll admit that LOLA wasn't as "magical" as ANNA, but it had its own singular charm that captured my attention!
The first thing I'll like to point out is Perkins is one hell of a writer! She switched voices from Anna to Lola completely, leaving behind no trace of Anna's voice where Lola's should be. I think that's an amazing talent in a writer that has to be appreciated! This tiny fact both astounded and delighted me.
I loved Lola's character. Her unique fashion sense had me visualising her dress multiple times. I liked her immaturity and I loved watching her grow wiser and stronger from beginning till the end.
As for Cricket, I once again loved his uniqueness and how he got integrated into the story after all that history between him and Lola. The story progressed flawlessly between them, as far as I'm concerned, and I absolutely adored the romance.
Lastly, I loved how Anna and Etienne appeared in the story, and I was positively ecstatic when even Josh made a cameo! So good to see the old buddies back!
my Goodreads review