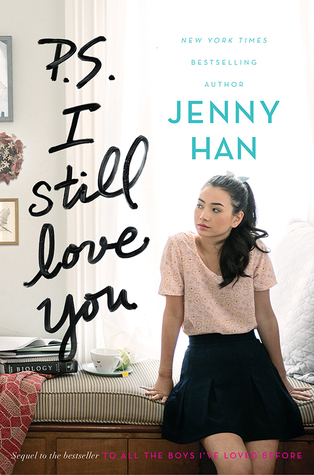 Read from January 23 to 24, 2016
"Lara Jean didn't expect to really fall for Peter.
She and Peter were just pretending. Except suddenly they weren't. Now Lara Jean is more confused than ever.
When another boy from her past returns to her life, Lara Jean's feelings for him return too. Can a girl be in love with two boys at once?
In this charming and heartfelt sequel to the New York Times bestseller To All the Boys I've Loved Before, we see first love through the eyes of the unforgettable Lara Jean. Love is never easy, but maybe that's part of what makes it so amazing."
P.S. I Still Love You
had much more realism it in than
TATBILB
did. From the moment this book started, it had a more solemn and honest tone than the first book.
I loved Lara Jean. I loved her for being so flawed, and human, and just a teenage girl. I loved the fact that she was "in love with love". In those so many way, I felt I could relate to her. I especially loved the ending because it was so obvious that she's grown up since book one and it was a heartening thing to see happen!
I loved the rest of the characters too! I was annoyed with Han throwing in new characters at the last moment but then I realized that that's sort of what life does! Haha! I loved the Covey family, as always, I loved Peter (duh!) and Chris and John! Also, I actually didn't realize till the last bit that Han taking away characters as well, like friends drifting away from each other in life.
So, there was a lot happening in this book. While
TATBILB
was about love and making mistakes,
P.S. I Still Love You
was about Lara Jean and life. It's almost as if the series grew up with her! Haha! All of that together, I loved it!
my Goodreads review