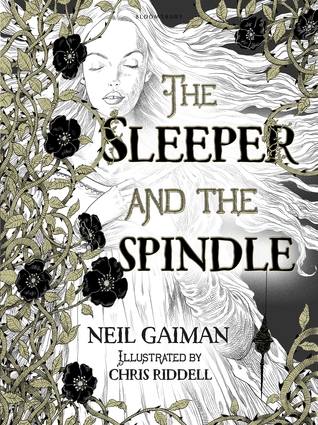 Read on February 21, 2016
"A thrillingly reimagined fairy tale from the truly magical combination of author Neil Gaiman and illustrator Chris Riddell – weaving together a sort-of Snow White and an almost Sleeping Beauty with a thread of dark magic, which will hold readers spellbound from start to finish.
On the eve of her wedding, a young queen sets out to rescue a princess from an enchantment. She casts aside her fine wedding clothes, takes her chain mail and her sword and follows her brave dwarf retainers into the tunnels under the mountain towards the sleeping kingdom. This queen will decide her own future – and the princess who needs rescuing is not quite what she seems. Twisting together the familiar and the new, this perfectly delicious, captivating and darkly funny tale shows its creators at the peak of their talents."
The Sleeper and the Spindle
has got to be one of the most gorgeous books on my shelves! Riddell's illustrations are just absolute perfection and beauty! Can't get enough of them!
I loved this fairytale retelling! Gaiman flawlessly twined the two fairytales into one and I'm very satisfied with what it's turned up to be.
The only reason why this book ended up with 4 stars and not 5 is because I'm not too happy with the ending. It sort of just ended too abrupt for me. I feel like there should have been a bit more there!
my Goodreads review